Their 3rd album is entitled:
Yue Lai Yue Ai - Love You More and More
it will be released on December. 10th, 2008!!!!
Here is their 3rd album cover I believe: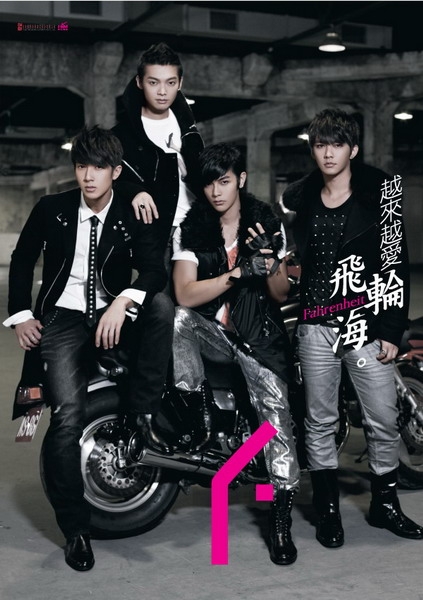 yup yup, new hairstyles for all of the Fahrenheit members! for this new album:
Wu Zun: got a trimmed on his sides and back, and dyed his hair a brownish color.
Calvin: still has his buzz cut hairstyle lol. but i guess you can say it's new still...lol >.<
Jiro: hair is much more shorter now, compared to his usual spikes stylish hairstyle.
and Aaron: like Wu Zun also dyed his hair in a brownish color! and then also got his hair cut shorter
Yup Yup so far that's what i've been able to find out...>.< still trying to dig around for more info......>.< lol. but that's it so far. but chea i haven't forgotten about my boyband fahrenheit hehe.
ADDED: [12.9.08]
Here's a preview of their new song Yue Lai Yue Ai!!!!!!
4shared.com/file/75272922/8f0...nheit.html
Thank You AF member Cassia for the download link and I believe recording it from the radio!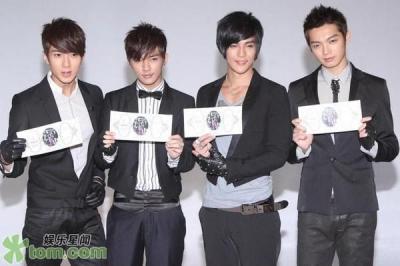 A NEWS relating to Fahrenheit Promoting of their 3rd Album!
Promoting new album; Fahrenheit do not mind being "consumed"
source: UDN
translated by: Sarah @
http://asianfanatics.net
For their upcoming new album, Fahrenheit have gone all out. 4 lucky fans have the chance to spend 1 hour with one of the Fahrenheit members!
To encourage fans to buy their new album "More And More Love," which will go on pre-order from the 10th, Fahrenheit have agreed to give themselves up. In the whole stock of albums, they have placed only 4 vouchers, and this represents a specific Fahrenheit member's "exclusive consumer coupon." Whichever lucky fans find a coupon, they can spend 1 hour with their idol, as long as it is in "public place," and does not violate customs of society and regards health and well-being.
Here is a pic of Fahrenheit with THEIR vouchers!: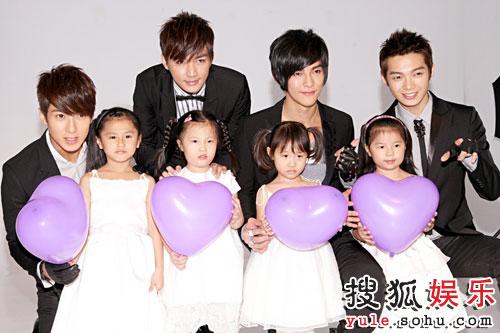 Continue reading article below.....V
However, Fahrenheit do have their own limits to being "consumed." Aaron Yan said, "I can only allow for fans to kiss my cheek, and cannot leave too much saliva."
Jiro Wang is more generous: "As long as fans are happy, then I'm OK, it'll be good if they are creative, but no X-rated action is allowed. However, if she is not afraid of her hands being sore, I don't mind if she hugs me for 1 hour."
Calvin Chen goes totally out: "As long as we are fully clothed, she can touch my whole body if she wants."
Wu Zun is also quite generous: "If the opposite party can make me feel at ease, and makes me trust her, then I am willing to exchange phone numbers."
Yesterday, Fahrenheit also had a photoshoot with 4 little 3-year old brides. However, the children kept making sour faces, and their parents had to yell the password: "Are watermelon sweet or not sweet?" and the children would reply, "Sweet!" and then their face would break out into a smile. Fahrenheit joked and said they had learnt a new trick, and Wu Zun, who was previously rumoured to be already married and had kids commented: "I love children, I will want at least 3-5 children."
Pics of Fahrenheit and their little brides: XD (My Comment: I'm JELLY!) XD
O Dear i just noticed, it seems that Wu Zun, Aaron, and Calvin switched their little brides with one another XD. and Jiro is the only one that remained with his original little bride! Cute i say XD.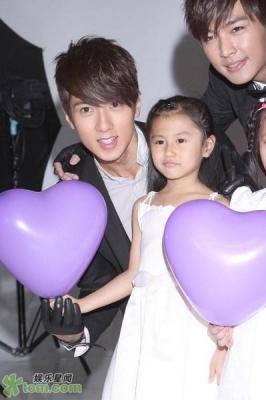 Zunnie and his little Bride!!!!
My note to the little girl!!!! Can i have your place please!?!?!?!" XD (man...that little girl is so lucky.......gahhh i'm jelly of a 3 year old you guys........gahhh!) lol.
Credit to AF member X- WISHFULlthinking for sharing article and Eigna614 for the sharing pics